You help us bring our beloved son into this world in such a loving way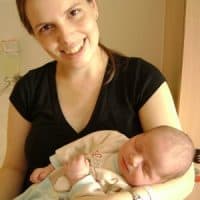 What a miracle it was that we found you! Our experience of welcoming Evan into our lives was amazing and exactly what we dreamed it could be. So much of that is thanks to you and the way you supported us and helped us. The blessingway, the birth, the closing ceremony, and all the times in between are precious to us beyond words!
You have found your calling in life Yan! Thank you from the bottom of our hearts, for all that you did to help us bring our beloved son into this world in such a loving way! […]
Kendra and Mark, Evan's parents
It felt very supportive to have someone to ask anything we wanted to
It was very helpful for us to have Yanick as a doula. She was very open to any questions we had. Since it was my first pregnancy I had a lot of questions about the pregnancy and about babycare, especially in France. It felt very supportive to have someone to ask anything we wanted to.
Luckily the pregnancy and labor went fairly smoothly, but it was very important for us to feel like we could depend on someone who was French and understood the system, in case anything came up. Overall, it was a very good experience.
Possibly the only drawback was that it was unclear whether Yanick would have been allowed into the labor room at the hospital. The labor went quite quickly and smoothly so we did not get a chance to call her. But for sure if Sean had not been available for some reason, I would have asked Yanick to come to the labor.
Mia, André's mother
Yesterday was a truly special day for me. I was given a Blessingway. It was a celebration of the soon-to-be rite of passage I will be taking into motherhood. A blessingway is similiar to a baby shower in that it is a gathering of friends that takes place at the end of a pregnancy, but it is different from a baby shower because the emphasis is more on wishing and giving the mother strength, and is an expression of the support of her community.
My doula, Yanick, suggested I have a blessingway several weeks ago during one of our meetings. I didn't know anything about blessingways at the time, and she explained a little to me. We spoke of it off and on, but it was only a week ago that I began to think seriously about what I would want to have happen. Being so far away from home and from my native language has been a big challenge, especially since I am experiencing pregnancy for the first time. [Note: An example is that all my doctor's appointments, meetings, lab tests, etc., have been in French, which means I'm missing about 70% of the words that are spoken! Mark makes up for the rest by attending the most important appointments and translating.] Pregnancy has caused in me a desire to be around my family and community more than ever, and yet they are farther away than ever! So, naturally I wanted to include everyone back home in this experience as much as I could.
I came up with two ideas: 1) to have a prayer flag, of sorts, on which would be written the hopes, prayers, and poems of loved ones, that I could bring with me to the hospital to read when I need it most, and 2) to have a phone/email "tree" to spread the news when I go into labor, and each person finding out could light a candle, say a prayer, or send good thoughts my way. I sent out an email to friends/family, asking if they wanted to participate and to send thoughts for my flag.
This entire week I have been receiving beautiful expressions of strength and wisdom from so many wonderful people! Thank you all, so so much! My little flag is turning into something I will treasure the rest of my life.
Yesterday at the Blessingway, I was given the royal treatment, and the support I felt from the women who came, combined with the flood of good wishes from my far-away community, has given me the final ingredients I needed to feel fully ready and prepared for what is to come.
Kari, Ngan, Maryline, Claire, and Yanick all joined me at our apartment. Mark kept us well-fed, bringing out appetizers periodically, and joining in on the festivities as well. Kari and Ngan braided my hair and wove in fresh flowers (so beautiful). That was followed by an amazing foot rub and nail polish, a hand massage, and then my pregnant belly was painted! Maryline started the design, and then each person added to it. My belly turned into a huge flower (my belly button was at the center of the flower), with vines curling around. Every time I laughed, the shape of the flower would change a little, almost like a face. It had a life of its own! Each person took a turn writing on my flag too, and the rest of the time was full of wonderful conversation.

Mark and I are both still glowing from the experience!
This afternoon, Kari surprised us with a blog she created especially for the blessingway! She took exceptional photos, perfectly capturing the emotions we were feeling. She designed an absolutely beautiful blog, loaded up the photos and links and such, and then sent it to me. We will be spending many happy moments gazing at the blog in the coming weeks and into the future!
And so the wait for the birth begins… "Lil' g, we love you! We can't wait to meet you! You can come anytime…"