In a few words
I am a full spectrum doula and a doula trainer.
I work in Lyon and its suburbs (Rhône, Ain, Isère).
The support I provide as a doula is discrete, calm and respectful of your own choices.

Since 2001, the beginning of my first pregnancy, I have spent a lot of time listening to other mums-to-be, being there for them during their pregnancies, answering their questions, large or small, and supporting them when they needed it. I was just a presence.
A few weeks after my second pregnancy, I discovered the existence of doulas. This job was what I had been doing for several years without knowing it, as an "already mum" : listening to mums-to-be, guiding them, reassuring them, helping them to be confident, supporting them…
My son's natural birth, very different from my daughter's, gave me the desire to share my confidence in the ability of women to give birth to their children, and to be next to other women on the path of birth.
I have supported many women during their pregnancies and after the births of their babies, I am present for them when they wish so, listening to them.
I can be here for you, before and after the birth, simply to listen, to support, to accompany...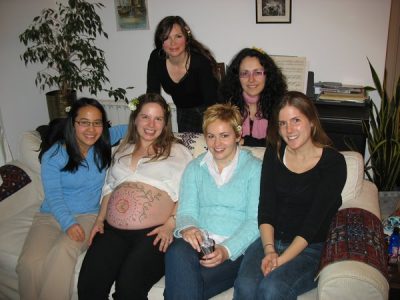 Full spectrum doula since 2006, I am very invested in Doulas de France association and Centre Galanthis, I keep training and teaching about pregnancy and parenthood :
Co-founder and doula trainer of the "Centre Galanthis" since 2020
Doula Training International  course "Slow Doula Method" in 2020
Doula course and end-of-life doula course by Centre Pleine Lune in 2018 and 2019
Certified doula of the "Doulas de France" association
Certified doula of the Institut de Formation Doulas de France
Co-founder of the Institut de Formation Doulas de France created in 2008, I keep teaching there occasionally
Paramana doula course by Doctor Michel Odent and Liliana Lammers in 2006
Member of the Bien Naître association in Lyon since 2005
"Vivre en famille" course by Catherine Dumonteil Kremer in 2005
Vice President of the associative nursery Les Montchatons in Lyon from 2002 to 2007
The shores of the Leman Lake, where my parents lives • Laughs, tears, emotions • A green salad with fried potatoes and faisselle • Sleeping late at night • The Scream by Munch • Sharing, connecting • The smell of the earth after a storm • Knowing the names of my great-great…-great-grand-mothers,16 generations starting with my daughter • Long hairs • Watching series : Call the midwife is certainly my first choicie on this site! • The word "parapluie" • Developing websites • Adding smilies to my mails… but on a website, it is note serious 😆 • When it's very cold, the snow, the rain, the wind • Drawing mandalas • Léonard Cohen's voice • Looking for all small and big happiness treasures life can give us every day • Growing plants on my balcony • Waking up in the middle of the night because it's time… a birth is coming… • Tous ceux qui font leur part de colibri (I don't know how to translate this expression, need help !)
Peppers (the vegetable, not the spice) • Getting up early in the morning • When the weather is very hot • Flying • Raving… but I do it anyway! • The sound of polystyrene • Borders • Being in the middle of the crowd • TV which lobotomizes • Edges in fishes • Spelling errors (so please correct me if you find some 😁) • Not taking care of our planet • Negative thoughts so… I stop here!